Lithium Ion & Lithium Ion Polymer Battery Charger XTAR MC2 USB Input Automatic Two Channel 1-2 Cell, XTAR, MC2
XTAR MC2 USB Input Automatic Two Channel 1-2 Cell
The XTAR MC2 is a two channel (1-2 cells) fully automatic lithium ion battery charger. Powered by the included 5VDC input USB cable the charger includes the following features:
* Two cell charger for charging one or two 3.6V/3.7V lithium ion cell in sizes 14500, 14650, 16340, 17500, 17670, 18350, 18500, 18650, 18700, 26650.
* Sliding contacts for firm contact with battery during charging and LED status indicators per channel.
* Algorithm based 3 stage TC/CC/CV charging system with 0V discharged cell wake-up function, soft charge start followed by constant current then constant voltage charging.
* Reverse polarity, short circuit & overcharge protection.
* IC Temperature monitoring.
* Intelligently adjusts current options depending on input power:
– CC (constant current stage) charging rate with 5V 1.0A input = 500mA (±10mA).
– CC (constant current stage) charging rate with 5V 0.5A input = 250mA (±10mA).
* CV (constant voltage charging stage) 4.2V (±0.05V) cut-off current <40mA. * Compact, low heat design with fireproof ABS material. * Overheat protection, reverse polarity and short circuit protection. * 2 year repair warranty (when used according to specification & in normal conditions). MC2 package includes: * MC2 charger * USB cable * Manual and warranty card Optional accessories: 100-240VAC (world voltage) to 5VDC input power adaptor, 12VDC to 5VDC input cigarette light connection car plug also available separately. To view the complete range of torch and laser sight batteries we have available please click this link.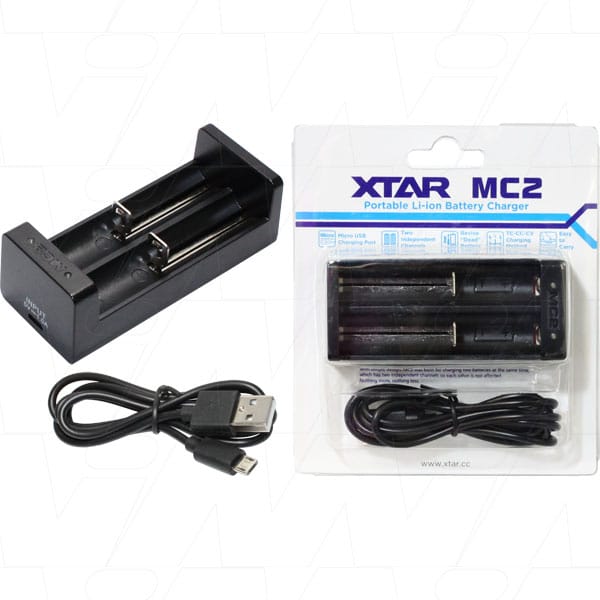 40 Years Experience
SIMPOWER is at the forefront of battery technology. With 40 years of expertise and experience in research contracts, design and developing of both new technology cells and specialist industrial battery applications.
In other words from concept of cells to production manufacturing, SIMPOWER knows how to achieve customer satisfaction.
Own Manufacturing
SIMPOWER has its own manufacturing plant with state of the art welding and manufacturing equipment servicing all parts of New Zealand from the southern to northern end of the country with a quick efficient service. They offer free technical advice* on battery selection and pack design and have extensive technical advice.
SIMPOWER offers a unique facility and service of repacking battery packs for equipment which is no longer produced or perhaps difficult to source. Where possible they replace existing cells with increased capacity batteries to improved customers run time and service life if possible.
* Advice is free for the first 60 minutes, or part thereof. All subsequent advise will be billed at the SIMPOWER hourly rate or an agreed amount, subject to subsequent sales.
Exclusive
SIMPOWER has extensive knowledge and expertise of cells and battery pack build and is an exclusive distributor in NZ for SAFT, a world leader and innovator in cell technologies, as well as an approved distributor for PANASONIC, SENTRY, EVE, ARTS Energy and a supplier of FDK, DURACELL, Sonnenschein among others. SIMPOWER carries a wide range of many brands in stock and has the ability to source all leading brands from the global market place.
Contact us to discuss your requirements further.